Used Dufour 382 Grand Large for sale
Dufour Yachts offer quality boats with stylish and modern design, this Dufour Grand Large offers a spacious cockpit, a clean teak deck and a very versatile interior. Modern lines and a spacious interior make the boat very confortable and great layout with 3 cabins capable for accomodating 6 people with confort Some Specs include: Hull: Hand-laminated in polyester/glassfibre. Decoration: Decorative stripes on the hull. Gelcoat: NPG gelcoat with first mat impregnated with NPG resin forming an optimum barrier against osmosis. Structure: Hull bottom counter-moulded, floors laminated int...
read more
Year:
2017
Length:
11.250m
Location:
Canary Islands Spain
Price:
€130,000 Tax Not Paid

View Details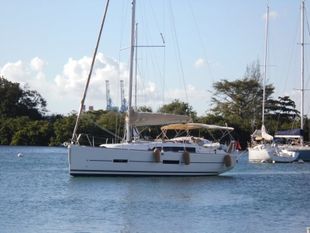 Bateau priv , construit en 2015 mill sime 2016. Version trois cabines, entretenu minutieusement par son propri taire, jamais lou , utilisation chaque ann e de d cembre avril, pavillon Fran ais, TVA et octroi de mer pay , visible en Guadeloupe. Am nagements Trois cabines doubles Une cabine avant double Deux cabines double arri re Un cabinet de toilette arri re b bord avec douche, lavabo et WC lectrique avec holding tank. Table carte l?arri re tribord Cuisine en long b bord Cave vin R servoir d?eau 380 L Eau chaude et froide sous pression Chauffe-eau 20 L Cuisine Evier double en inox ...
read more
Year:
2015
Length:
36'
Location:
Guadeloupe Guadeloupe
Price:
€126,000 Inc. Tax

View Details